Integration Providers allow for increased efficiency and reduced error when adding account data to the Fiduciary Focus Toolkit. With the import feature you can import clients associated with an integration provider and apply investment selection and monitoring criteria to them in a few short steps. Please note: The investment selection and monitoring criteria will be applied to all selected clients.
While in the Client view of your Book of Business, click the Import Accounts button



Select the account(s) which should be imported and click continue




Setup Investment Selection and Monitoring Criteria and click Preview Import



Review the accounts that will be created and monitored and click Import Accounts
Bulk Importing Client Accounts
From the Import Accounts screen, you can easily find plans/accounts by filtering on the provider name or searching by the account name. Additionally, you may household multiple accounts under one client and choose whether you wish to utilize one consolidated Monitoring Report or separate monitoring reports for each account.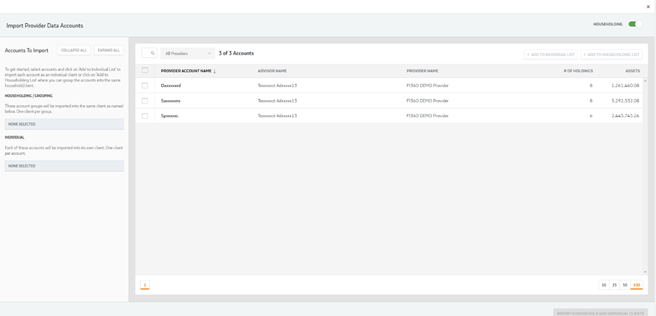 -To filter by Provider, select the dropdown menu located above the 'Provider Account Name' column. In order to enable the householding option, toggle the button in the top right corner of the screen to be green:
Moving forward after importing your accounts, from the Clients screen, you will see a 'Feed Updated' column, allowing you to see the most recent month end/daily data feed update that is available for that particular client, even though the latest Monitoring Report/MR Assets may be from a previous quarter. This Feed Update column prevents you from having to drill in to see if there is a new quarter time period and what the date is.
For more information on Client Dashboard enhancements, please refer to the Client Setup & Dashboard help article.