Follow the below steps to create a client within the Fiduciary Focus Toolkit™.
1. Navigate to the Clients tab under your Book of Business on the left side of the screen.  Click the '+ADD NEW CLIENT' button in the top right corner.
2. Add all of the relevant information into the 'New Client' form and click the 'ADD' button.  It will turn orange once you've input all of the required fields (Client Name, Client Type, and Client Status).
3. Add the account(s) that you are responsible for.  You can create the account(s) manually or by importing data from an integration provider.
4. Add the Account Name, Type/Sub-Type, and click the 'ADD' button.  It will turn orange once you've input all of the required fields.
5. After adding the Active Account, you will arrive at the holdings screen.  There are three ways to add holdings; via integration, excel, or manually entering the ticker, name, or CUSIP.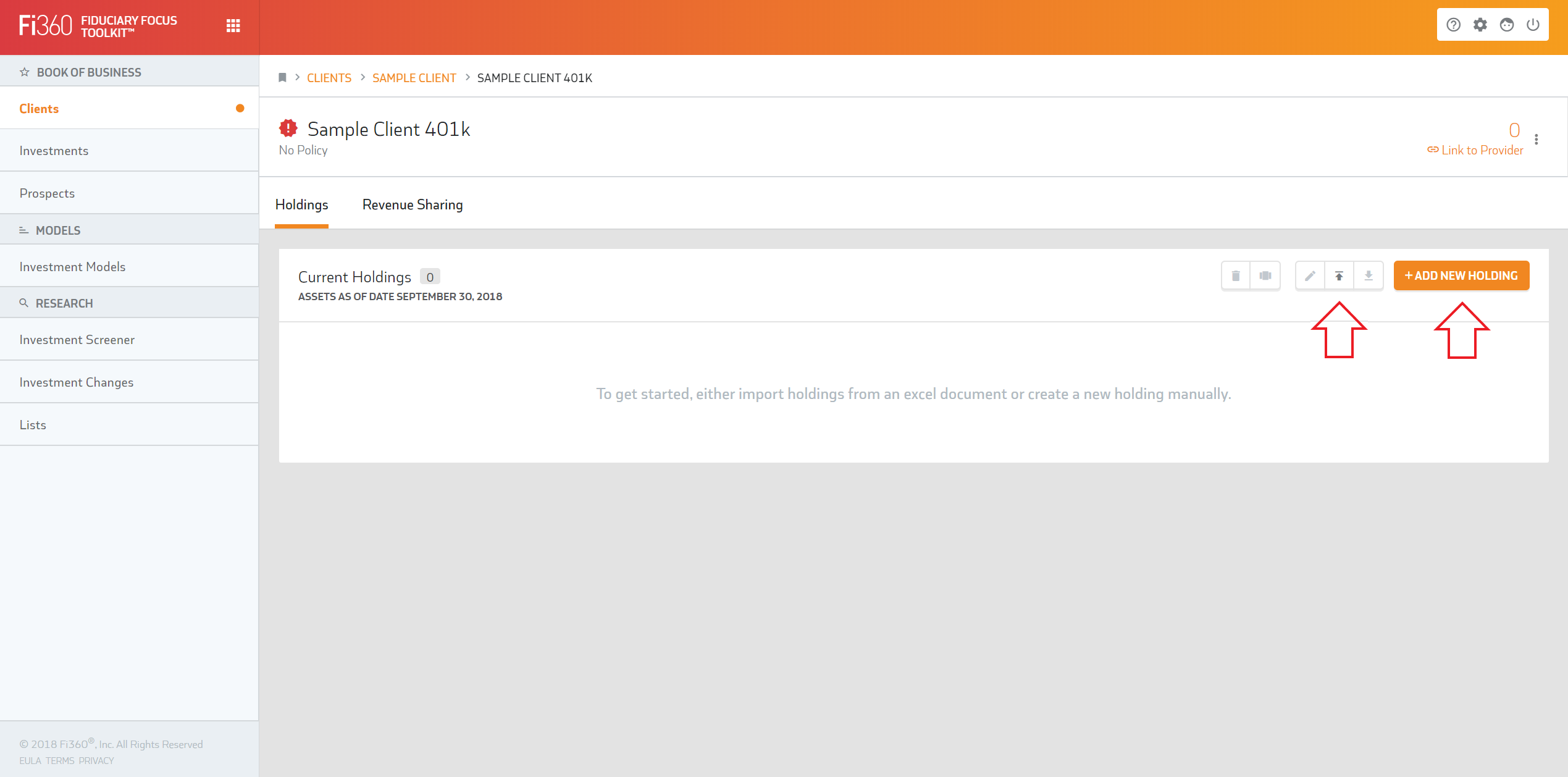 Note: If you choose to upload holdings via EXCEL, please format the file appropriately (use below template for reference).
6. After you've added holdings to your client's account, you can get back to your original client screen by clicking on the client name in the top left corner of your screen.
7. Add an Investment Policy Statement by navigating to the Investment Policies tab, and clicking 'ADD NEW POLICY'.  The use of an Investment Policy Template is not required. Client Monitoring can be activated without the creation of the Investment Policy Statement by not selecting a template.  Even if you do not want to produce a new Investment Policy Statement, you will still need to assign watch list triggers to the client account. 
Name the IPS, enter a description (optional), choose an Investment Policy Template (optional), and select the accounts to associate with the Investment Policy Statement. 
Next, select the watch list triggers that you want monitoring your client's investments. You can use a unique trigger for each investment type (active, passive, money market/stable value, and target date investments).  You can use our "Home Office Default" trigger, use a custom Watch List Trigger, or leave as "No Trigger" if you do not want an automated process to put investments on the watch list.  
If you have chosen to use a template that specified peer group allocation, select the peer groups that will be used with your client and then complete the Investment Policy Statement questionnaire (only applicable if you selected an Investment Policy Template).
Lastly, generate the client ready deliverable (this removes the "NOT FOR CLIENT USE" watermark and saves a copy of the IPS for future reference) and activate the policy.
8. Once an Investment Policy Statement is activated for a Client, you can click on the Monitoring Reports tab and view their Monitoring Report.