The first step in creating a Cost Report is to start by making sure your Revenue Sharing is correct.
How to Edit Your Revenue Sharing
From the 'CLIENTS' tab, click into the client that you are looking to update.




Click into the Client Account.




Click the Revenue Sharing tab.




Click the Edit button.




Enter your edits into the applicable fields and then click SAVE (in the lower right of the screen).


Creating a Cost Report
First, you should confirm that an applicable Cost Profile has been created. Your Cost Profiles are located under Application Management which can be accessed via the Settings icon in the upper right of your screen. NOTE: you can also create new cost profiles in the Cost Profile Tab.
Once done, go to the Cost Profile tab and click either 'Add New Cost Profile' or 'Select Cost Profile' (for an existing cost profile). NOTE: you can add multiple Cost Profiles to the same account.
If you click the 'Select Cost Profile' a small box will come up and you will be able to select (using the check boxes) the cost profile/s you would like to use and then click 'Make Selection.'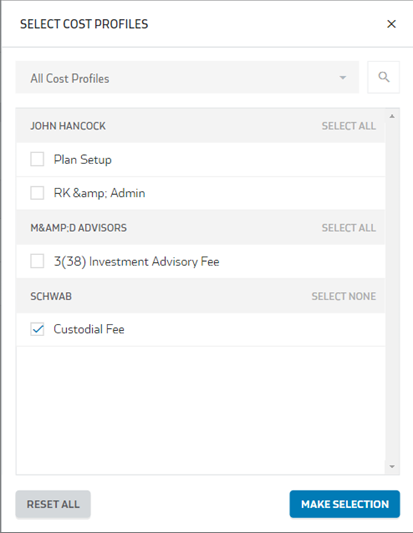 If you click on 'Add New Cost Profile' then follow the steps in our help article titled 'Creating and Editing a Custom Cost Profile' by clicking here.
Once you have finished adding your Cost Profiles the Cost Report will be included in several of our default Monitoring Report Templates. Or, you can add the Cost Report section when creating your own Custom Template.
***Please Note: if you are using integrations through Principal OR Charles Schwab these numbers will change with each integration update.***