Within Clients/Batch Monitoring Reports, you can select a subset or all of your clients in order to change watch list triggers. Formerly, once a policy and its watch list triggers were configured, if you wished to change the criteria, you needed to do a policy review one at a time. You can now select one, or all of your existing clients and reset their watch list triggers to your desired selections. Doing so will re-evaluate all the current quarter holdings using the new selections for any DRAFT monitoring reports, and will also update your client's IPS.
-To apply watch list triggers in mass, click on 'Change Triggers' box located within the Clients/Batch Monitoring Reports section.
-Check the boxes for the client policy names that you wish to update watch list triggers for.
-Select the orange 'Change Triggers' button on the right side of your screen.
-Choose your desired watch list triggers using the dropdown selections for Active, Passive, Money Market/Stable Value, & Target Date Funds. Any user-created watchlist triggers will be available in the dropdown selection, in addition to the inherited Home Office Default watchlist triggers.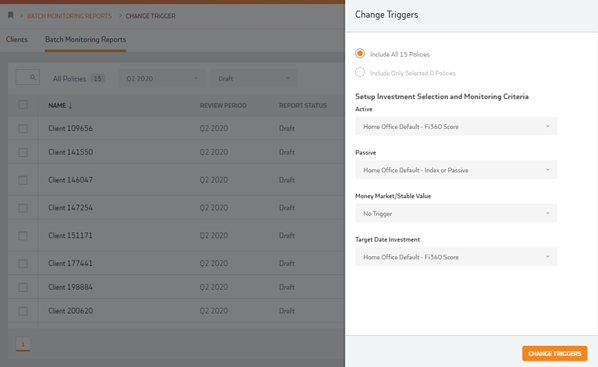 -Once finished, click 'Change Triggers' to implement your new watch list triggers and update the selected client's polices. This will re-evaluate all the current quarter holdings using the new watch list trigger selections for any client monitoring reports that are currently in draft status.
Additionally, you can also use the Change Triggers feature to pro-actively update a policy for the next quarter. In doing so, any monitoring reports that are in a Client Ready or Complete status will stay as is for this current quarter, but next quarter's report will utilize the new trigger criteria.