Stable Value Factsheets
For many advisors, stable value fund due diligence is a confusing process marred with a lack of available resources. Fi360 is changing this with the launch of the new Stable Value Factsheets, now available in your Fiduciary Focus Toolkit.
Through the Stable Value Factsheets, we have developed a Stable Value fund-focused report to assist you with performing your due diligence on these funds.
With a sleek layout, easy-to-read charts, and graphs that will make even the heaviest of data points decipherable, these reports provide a breakdown of criteria unique to Stable Value funds (such as credit ratings, wrap providers, fund structure, and flexibility).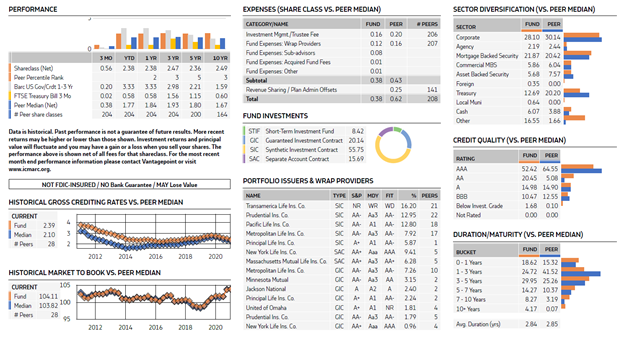 The Stable Value Factsheets classify Stable Value funds into one of three peer groups: General Account, Separate Account, and Collective Investment Trust. Each Stable Value fund will only be compared against its respective peers, allowing you to make more direct comparisons of funds.
These reports contain a detailed breakdown of expenses, reports can be generated for each fund share class, and historical credit ratings and historical market-to-book data provide a more complete picture of fund performance. We've incorporated peer median values across many of the metrics for comparison purposes as well.
The Stable Value Factsheets are easy to access – simply click on the "Stable Value Factsheets" tab in the Research area of your Fiduciary Focus Toolkit (under the "Investment Screener" and "Lists" tabs) to download reports for each available share class. Over the next year we'll also incorporate these reports into other aspects of the Fiduciary Focus Toolkit.
The bottom line: with the new Stable Value Factsheets, you'll be empowered to bring your clients a new level of due diligence and expertise in evaluating this increasingly important asset class.


Client Tab Improved to Display All Clients in Larger Books of Business
We have removed the filter requirement for users with over 250 clients on the Clients tab, which provides you with a smoother experience when viewing your full client list. We've kept the search and filter capabilities on the Clients tab, so sorting your clients by name or linked integration provider will continue to be seamless.


New Color Scheme
The Fiduciary Focus Toolkit has a new look! Don't worry, we still deliver the same great software you're used to for efficiently managing clients with a high standard of care – it now just looks a little different. If you haven't heard, Fi360 is now a part of Broadridge and with that, our solutions are getting a new coat of blue paint to freshen things up a bit.