The Custom Report Section feature gives you the flexibility to tailor the content of your reports to your firm's specific and unique needs. There is no limit on the number of Custom Report Sections you can build or add into your reports. (And yes, this section is available in portrait or landscape mode too!)
To build your own Custom Report Section(s), click on the Application Management (gear) icon in the top right side of your screen. Next, choose the 'Custom Report Sections' tab as shown below:

Select the '+ Add New Custom Section' button to build your own Custom Report Section from scratch. Alternatively, you can copy and modify any existing or inherited/default Custom Report Section by clicking on the 'Copy Selection' square icon on the far-right side of the inherited report section:
To create your Custom Report Section content, enter an internal report section name, followed by an external client-facing report section title. Next you can add your report section content. This includes text, images, tables, and much more!
You can also use the content editor icons located in the Section Content box to make any needed formatting adjustments (i.e. edit headings, paragraphs, alignment, font size/color, etc.):
Once finished, click the 'Save' button in the bottom right corner of the screen.
Implementing Your Custom Report Section Into The Desired Report Template
-Select the Application Management (gear) icon. Choose the 'Report Template Editor' tab on the left side of the screen.
-Click on the Report Template name that you wish to add your Custom Report Section to (you can create your own Report Template from scratch, or copy and modify an existing inherited/default Report Template if you wish to add your Custom Section to a default Report Template).
-Select 'Choose Report Sections'. You will see your newly created Custom Report Section available to add to your Report Template. Your Custom Section will be denoted with a grey 'Custom' box to help you easily identify any Custom Report Sections:
-Check the box for the Report Sections you wish to add, then click 'Make Selection'.
-You will now see your selected Custom Report Section populated within the Report Sections of the Report Template you are working in, where you are able to arrange the order that your Custom Report Sections (as well as all other Report Sections) will be displayed in your Report.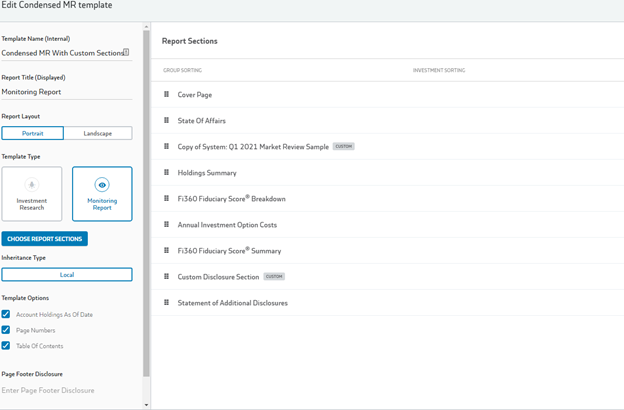 *Fi360 will be utilizing this feature to share quarterly market commentary, a quarterly fiduciary regulatory update, and an Fi360 Fiduciary Score information piece you can choose to include with your report templates as well:
Fi360 Fiduciary Score Overview - Download Sample
Quarterly Fiduciary News - Download Sample
Quarterly Market Review - Download Sample
To explore samples of content designed to educate and engage retirement plan participants, please visit
https://explore.broadridge.com/bas_retirement_content?id=WMT20jl5f187a430417f4b26b4324b0ce36b8a0&so=wb&po=&di=&ct=&ot=vd&mt=ap&yr=21&rg=gl&on=01&ep=og