Summary
This release includes the largest set of enhancements to the Fiduciary Focus Toolkit EVER! We know you are going to be thrilled with the many new features that continue our vision of automating your workflow and making the Fiduciary Focus Toolkit more flexible and easier to use! Batch reporting, quarterly tracking of holdings and actions, historical reporting, as well as a new, easier process to track and replace holdings highlight this release!
New Feature – Batch Reporting
Batch Reporting will save you and your staff days of time each quarter. The batch actions allow you to mass generate reports for all or a subset of your clients. Creating a batch takes only a minute and the reports will begin generating and saving for you in the background. You are free to tackle other tasks or log off the system entirely. When you're ready, you can return to the Toolkit and mass download your Monitoring Reports via a .zip file that will contain the individual PDF reports. From there, you can even mass complete the applicable reports to keep your dashboards updated. Finally, if you make a mistake …no problem! You can select one or many reports to reproduce and then follow the same batch process again.

New Feature – Quarterly Tracking of Holdings
While the current quarter represents what things look like today, clients want to see how things are changing. What investments have been added/removed over the last few years? How long has this fund been on my watchlist? How have my assets grown?
Within a client account, holdings are now attached to a Quarter (ex. Q1 2020) and Fi360 will automatically accrue quarterly history for your accounts as time moves forward.

In addition, you can create/edit/remove historical periods as desired to best meet your client reporting needs.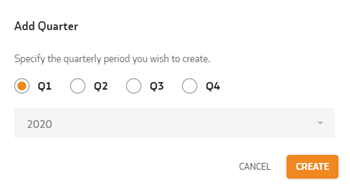 So, how is this going to manifest in the Monitoring Report?

One of most affected report sections is the State of Affairs which now can display trending data for investments on watch. This section also now supports your Custom Score which can be shown in addition to (or in replacement of) the Fi360 Score.
While not quite available yet, the Holdings History section coming in the next release will provide a great summary of the investment changes and watch list history in your client's account.
There are still more benefits to this quarterly tracking of holdings…
Our integration provider 'sync' process has been updated so quarter-end holdings remain matched with quarter-end investment data, and new holdings data such as daily or monthly feeds, are pre-applied to the next quarter.
You can now run a watch list evaluation (using your IPS Triggers) and a corresponding Monitoring Report for any historical quarter. So, if you need to run a 2019Q4 Monitoring Report in October of 2020, you can now do that.
You can filter your investment dashboard by quarter to see the applicable metrics at that time.
New Feature – Fund Actions
Within the Account Holdings, and for a given quarter, you can set the Action for each investment. The action is set automatically by the Watch List Evaluation, but you can override this as needed. The available actions are None, Watch, Remove, and Proposed.

Clients want to see any proposed funds right alongside the fund to be removed so they can compare them through the report. New action labels in the Monitoring Report allow you to do exactly that

With this release, the 'Investment Change/Short List' area is being depreciated given the new functionality provides more value with less effort needed from you. If you had any investment changes in a pending status, they will be converted into the new Action labels accordingly.
New Features – Investment Notes
Two new features are available within Investment notes. First, a mass upload option has been added to the Investments dashboard. You can now upload hundreds of notes across investments and even across time periods. This is yet another feature within this release designed to save you and your staff valuable time each quarter.
Second, a client-specific note option was added. While 'global' notes are most common and most efficient, the client-specific option lets you add a note for one or a few select clients which need to have unique comments in their report for an investment.
Updated Feature – Adding Holdings to an Account
The EXCEL import now supports CUSIP and SECID, instead of just ticker symbol, allowing you to easily import CITs and group annuity products into an account. If you need to manually add funds, you can now copy and paste, or type in a string of ticker symbols/CUSIPs instead of inputting the funds one at a time.