Summary
It has only been six weeks since our last major release and we have another key update to share with you! This release includes multiple enhancements to the Fiduciary Focus Toolkit™, as well as the introduction of a brand-new application, Decision Optimizer, which can specifically help you with documenting Rollover decisions!
New Application – Decision Optimizer
Ensure compliance with Reg BI by documenting a client's rollover decision. Fi360's Decision Optimizer provides an interactive interface for an advisor to discuss and visually evaluate the merits of rolling over to an IRA or staying within the 401k plan. It results in a client-friendly report that documents this decision. Check with your home office (if applicable) to see if this application can be enabled.
For additional details on how you can use the Decision Optimizer, please visit our help article!
New Feature – Plan Cost Benchmarking
You can now benchmark your total plan costs including a breakdown for investment options, investment advisory and recordkeeping.
The Annual Cost Summary report section (which can be added to a Monitoring Report template) existed prior to this release, but it simply disclosed the costs of the plan and did not provide any perspective as to whether that cost was reasonable or not. These new charts do exactly that and provide further talking points for you to discuss with the plan especially if you find yourself on the far left or far right side of the benchmark group.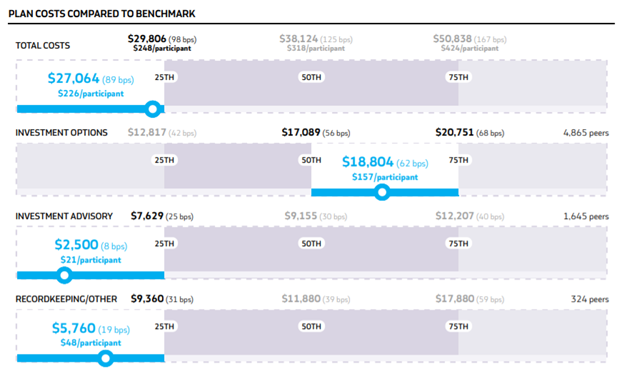 For further details on the benchmark methodology or the report section itself, please visit our help article.
New Feature – Holdings History Report Section
This new section allows you to look back in time and quickly digest how your client's investments have changed quarter over quarter. While most of the Monitoring Report focuses on what things look like today, this historical section helps you answer a number of questions very quickly such as;
What investments have been added (and which have been removed) over the last few years?
How long has this fund been on my watchlist?
What proposed funds did we consider when making that fund change last year?

With our May 2020 release, holdings are now attached to a Quarter (ex. Q1 2020) and Fi360 will automatically accrue quarterly history for your accounts as time moves forward. This history can then be shown within the Holdings History Report Section.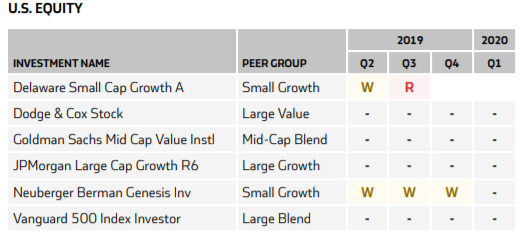 Updated Feature – Enter Assets into Proposed Lineups
Proposed lineups are now easier to create! Asset values can now be uploaded or entered manually (instead of using percentages), for an easier, more efficient workflow.
Updated Feature – 3-Year Return Added to Snapshot Report
A 3-Year Return column has been added to the Snapshot Report section.
Updated Feature – New Grouping/Sorting Options Added to Investment Factsheet
Grouping and sorting options have been made available for the Investment Factsheet within a report template. Prior to this release, the investments always displayed alphabetically.
Updated Feature – 10-Year Return Added to Investment Comparison
Per FINRA guidance, a 10-Year Return row has been added to the bottom of the Investment Comparison report. The Score "Status" will always say NA as this metric is not included in our Scoring methodology, but the 10-year return value and return rank will be displayed.