Summary
This release includes enhancements to the Fiduciary Focus Toolkit that help streamline efficiency. Mass updating Watch List Triggers across clients, mass applying fund actions and enhancements to the Proposal auto-populate process for Target Date Funds highlight this release!
New Feature – Mass applying new Watch List Triggers
Within Clients/Batch Monitoring Reports, a fifth utility was added to 'Change Triggers'. Prior to this release, once a Policy and its watch list triggers were setup, if you wanted to change the criteria, you needed to do a policy review one at a time. With the new batch feature, you can select one, or all, of your existing clients and reset their triggers to your desired selections. This not only updates their IPS but will re-evaluate all the current quarter holdings using the new selections for any DRAFT monitoring reports. This also can be used pro-actively to change the policy for the next quarter. So, any monitoring reports that are in a Client Ready or Complete state, will stay as is for this quarter, but next quarter's report will utilize the new trigger criteria.
New Feature – Mass applying Fund Actions
Within the Investment Dashboard, you can set the desired action for each client account as of a given quarter. When you have dozens or hundreds of accounts holding an investment, this process can be very time consuming. The 'Bulk Edit' button now lets you set the desired action once and have it applied across all accounts in your book of business. You can still make one-off changes to an investment for a specific client account as needed.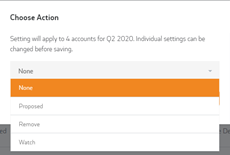 Updated Feature – Improved TDF Selection in Proposal Auto-Populate

The recently added auto-populate feature has been a huge success, but one gap related to Target Date Funds was hindering utilization. The engine was populating the 'best' TDF based on the selected parameters for EACH vintage which resulted in different TDF Series and share classes showing up in the proposed menu. In practice, a consistent TDF series and share class is selected. With this update, the engine will use the Series with the most vintage 'wins' and will apply that consistent Series and share class across all vintages desired in the proposal.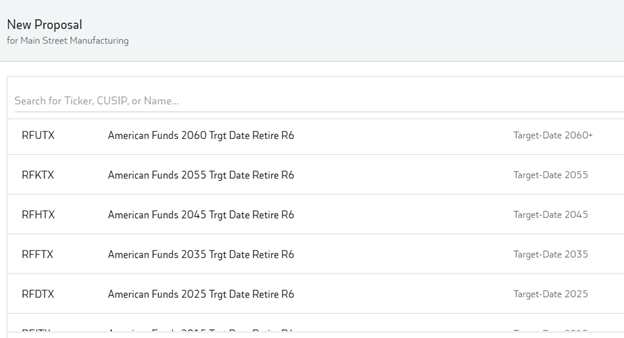 Updated Feature – Screener Multi-Select Search Box
Within any filter that has a long list of items such as the Investment Lists and Fund Families, you can now filter the items by typing in part of their name instead of having to scroll through the list.
Report Update – Extended Performance Disclosure
A new section was added to the Statement of Additional Disclosures that will appear if you have investments in your report which included 'extended performance' derived from an older share class. This disclosure was added as part of our ongoing FINRA compliance.
Report Update – Page Numbers in IPS Document
You will now see the page numbers in the top right of each page.