Easily view all your investment notes with a click – Investment notes are a great way to add context to your investment review process. Some of our subscribers keep detailed notes to reference later, others incorporate notes into monitoring reports for presenting to a client. Either way, if you have been recording investment notes in the Toolkit for a while now, you probably have many notes applied to many different investments. Finding these notes is no longer a challenge as you can easily go to the Investment tab and export all notes to excel. The details in excel allow you to quickly search across all notes for content, investments, dates, etc. to find what you may have written in the past.
Option to remove action bubbles from monitoring reports – a little while back, we added the ability for you to 'tag' investments as "Proposed", "Replace", and "Watch" throughout various report sections in the monitoring report. While this is beneficial to most, not everyone wants to show these bubbles to every client. To accommodate, you can now set your report templates to "Remove Action Bubbles".
Selecting this box will remove the legend from the top of each report page and hide the bubbles from the monitoring report sections. Navigate to Settings>Report Templates to get started.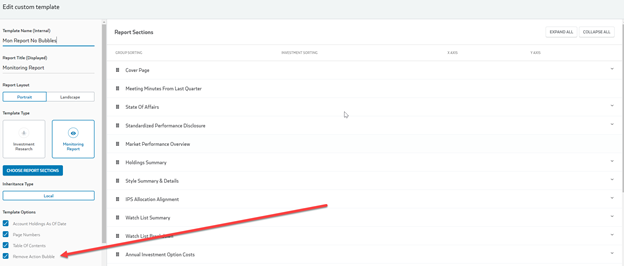 Integration Provider Updates – Fidelity has established a direct feed to Fi360. This means data will update automatically (once authorized) without the need for Fi360 clients to collect their Fidelity data and pass it along to Fi360. More details will be shared soon, if they haven't been already. Full instructions for establishing integrations can be found in the Settings>Integration Providers section of the Fiduciary Focus Toolkit.
Integrations Provider Updates – American Funds has improved their feed to include all funds in the lineup, even those with no balance($0). No action is required for you to take advantage of this enhancement.
More professional looking IPSs –text inserted via the IPS questionnaire can now be formatted with bold, italics, and more.
Lists in screener saved search – platform lists were being removed from a saved search when the list name was changed. Now you can save a list in your search and pull that up anytime in the future for quick screening of the current funds.