The first step in a Fiduciary Quality Management System is to organize your approach to each client engagement. The starting point is not too dissimilar to running a business: You need to identify your market, be familiar with the laws affecting your industry, know what resources will be available – capital and people, and assess what constraints will affect your business.
The Fiduciary Focus Toolkit™ equips you with the means of documenting the details pertaining to a specific client with the client notes feature.
1. Navigate to the appropriate client from the Clients tab in your Book of Business
2. Select Client Notes (last tab inside your client on the right).  This section allows you to add, edit, or delete Client Notes.  
Client Notes are typed directly into the Fiduciary Focus Toolkit™. The Toolkit also provides flexible visibility settings.  By not including the Client Note in Monitoring Reports, it will remain an Internal note.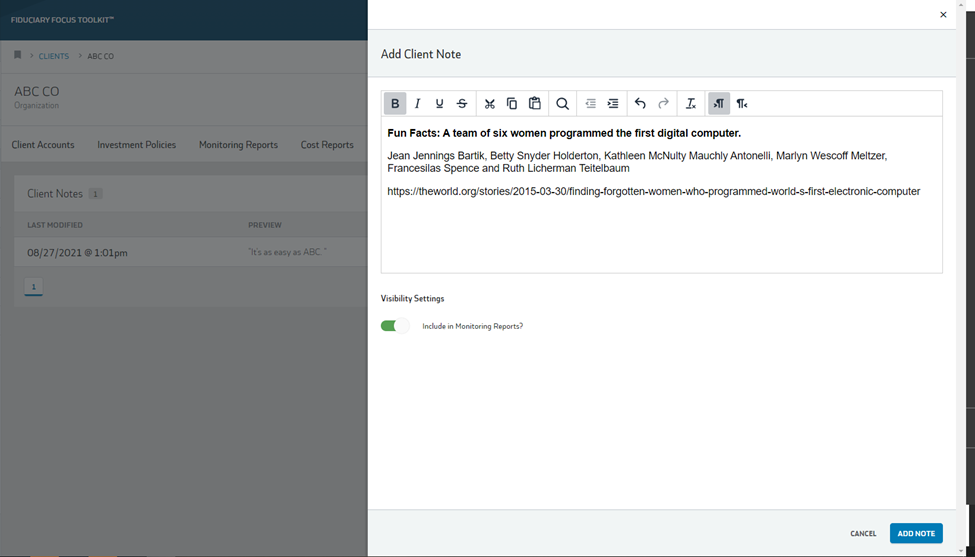 If you choose to include the Client Note in the Monitoring Report, it is client-facing and will appear in the report, as it does below: