From the HOLDINGS screen within a Client Account you are able to manually set the 'Action' status for each of your investments. The available actions to select from are:
None
Watch
Remove
Proposed
You will have the ability to set or edit the Action for any given quarter from previous years going all the way back to the year 2000. The Action for an investment is automatically prescribed based on the Watch List Evaluation, however you can override this as needed. To utilize the fund Action feature, follow these steps:
Navigate to a Client's Holdings page by selecting the CLIENTS tab from the dashboard on the left side of your screen, click on the Client's name and then click on the Client's Active Account. This will take you to the HOLDINGS screen.
Click on the pencil icon (edit table) box highlighted in the screenshot below.
Please note that there is a column labeled ACTION with a dropdown for each investment in the list.


To change the ACTION for a fund, click on the corresponding ACTION dropdown and choose from the options available for the desired action:
None
Watch
Remove
Proposed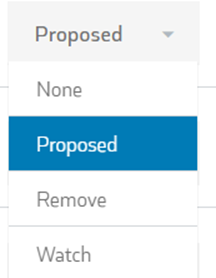 The selected fund actions will populate into your Monitoring Report. For example: if you select the 'Remove' action for a fund this fund will be given a 'Remove' label on your report.
When changing the Action to 'Proposed' for a given fund you will not be able to add asset values to the proposed fund as it is not yet considered to be part of the client's account.
After you have finished making any fund action changes - be sure to click the SAVE button on the right side of the screen.
There is also the option to set the fund action (of a given investment) across all clients that hold that investment. This can be done quickly and easily, as follows:
Select the Investments tab from the dashboard on the left side of your screen within the Book of Business area.
Click on the investment name that you wish to change the Action status for.

NOTE: you can search for the investment name by typing it into the search box located above the Investment Name column.

After clicking on the investment name you will see the Action column and dropdown option box.
After making your selection from the Action dropdown box be sure to SAVE your work. The Action that you have selected for the investment will be applied across all of your clients that hold this investment.
Fund Statuses in Reports
Within the updated State of Affairs and other Monitoring Report sections you will be able to see fund actions and statuses in the form of color-coded labels. This will allow you and your clients to easily identify funds on watch, funds to be removed, and proposed funds, in addition to custom funds through the sections of your Monitoring Report.